release time:2020-07-17 18:08
source:Shanghai Coorperation Organization Countries Regional Agricultural Cooperation Network
October 22, Shanghai Cooperation Organization roundtable meeting on modern agricultural development held in Yangling Demonstration Zone, Shaanxi Province, China.
The theme of this meeting is "promoting the 'Shanghai spirit' and strengthening cooperation in modern agriculture" to explore new models and ways to deepen cooperation in the field of agriculture.
Vladimir Norov, Secretary-General of Shanghai Cooperation Organization, said that the Yangling Demonstration Zone has made remarkable achievements in agricultural technology innovation, and solve lots of modern agricultural problems over the years. Hope to build a SCO agricultural technology exchange training demonstration base to provide a good platform for all parties to learn advanced technology experience from each other and strengthen exchanges and cooperation. Meanwhile, accelerate the establishment of commodity inspection, phytosanitary and certification networks to promote national agricultural cooperation to a new level.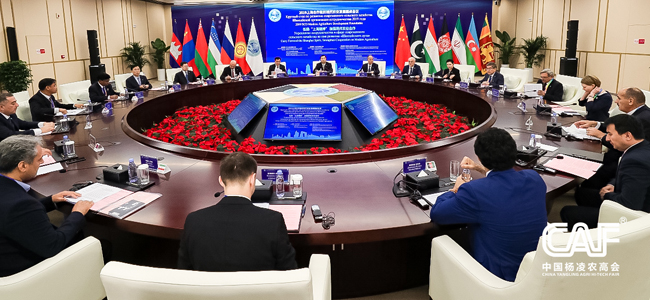 2019 SCO roundtable meeting on modern agricultural development
Hu Heping, secretary of the Shaanxi Provincial Party Committee, said that he looked forward to taking this roundtable as an opportunity to adhere to extensive consultation, joint contribution and shared benefits, deepen exchanges and cooperation with the Shanghai Cooperation Organization countries in terms of agricultural infrastructure construction, crop breeding, smart agriculture and agricultural trade., improve the modernization level of the agricultural industry chain, promote the construction of the international agricultural cooperation mechanism, and help to build the Belt and Road along the direction of high-quality development.
Ministry of Foreign Affairs of the People's Republic of China, Ministry of Agriculture and Rural Affairs of the People's Republic of China, and representatives of Kyrgyzstan, Pakistan, Russia, Tajikistan, Uzbekistan and other countries made their respective speeches.