The Modern Agriculture International Exchange and Training Demonstration Center Was Established in Yangling Demonstration Zone, Shaanxi Province, China
release time:2020-07-03 00:00
source:Shanghai Coorperation Organization Countries Regional Agricultural Cooperation Network
On October 22, 2019, a ceremony to lay the foundation stone of the Modern Agriculture International Exchange and Training Demonstration Center is held in Yangling Demonstration Zone, Shaanxi Province, China. Officials from the Ministry of Science and Technology, the Ministry of Agriculture and Rural Affairs, Shaanxi Provincial Party Committee and Shaanxi Provincial People's Government attended the ceremony.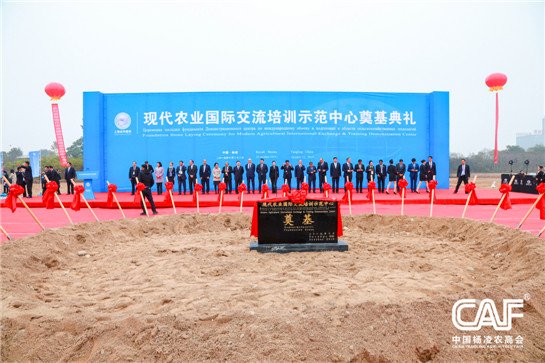 The ground breaking ceremony, photo by Wu Yongbin
Shaanxi is at the center of China's territory and has been an important gateway to the world since ancient times. In recent years, based on its rich and diversified agricultural resources, Shaanxi has carried out the strategy of rural revitalization and steadfastly opened up wider to the world around the agricultural science and technology, agricultural trade, agricultural investment in areas such as communication, and comprehensively strengthened agricultural exchanges and cooperation with countries along the "One Belt And One Road" belt and road and SCO (Shanghai Cooperation Organization) member states. The external influence of modern agriculture in Shaanxi has been continuously enhanced.
As the first state-level agricultural high-tech industry demonstration zone in China, Yangling Demonstration Zone owns the only free trade experimental zone with agricultural characteristics in China, and has unique advantages in promoting innovation of modern agricultural science and technology and promoting international exchanges and cooperation.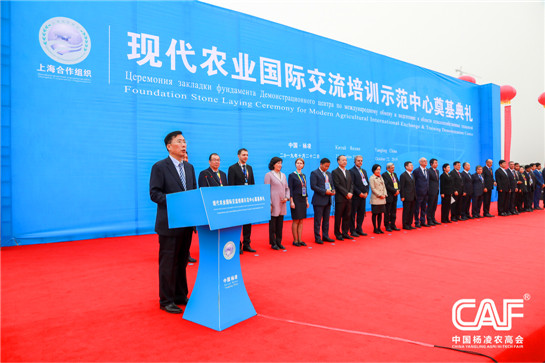 Wei Zengjun, vice governor of Shaanxi province presided over the ground-breaking ceremony, photo by Wu Yongbin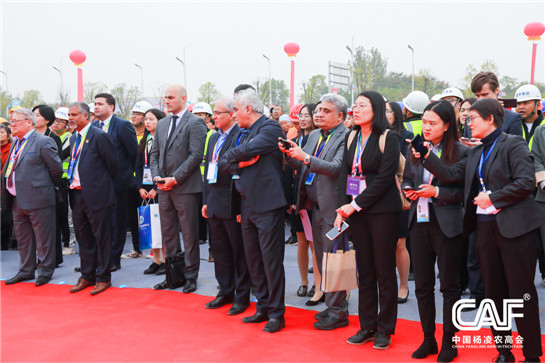 The ground breaking ceremony, photo by Wu Yongbin
Relying on the agricultural science and education resources of Yangling, Shaanxi will further strengthen exchanges in agricultural science and technology, personnel training and production capacity cooperation with the SCO and other countries, so as to jointly promote innovation and sustainable development of modern agriculture in all countries.