The Graduation Ceremony of Uzbekistan Modern Agricultural Economic Management Seminar (2019) Held in Yangling, Shaanxi Province, China
release time:2020-06-11 17:42
source:Shanghai Coorperation Organization Countries Regional Agricultural Cooperation Network
On October 25, 2019, the graduation ceremony of Uzbekistan modern agricultural economic management seminar held in Yangling Demonstration Zone, Shaanxi Province, China.
In recent years, with the goal of building a modern agricultural international cooperation center in the Silk Road Economic Belt, Yang Ling has actively promoted the scientific exchanges and cooperation of international agriculture. It has established scientific and industrial cooperation relations with more than 60 countries and regions, and established international agricultural cooperation parks, such as China and Kazakhstan, China and the United States and a batch of Global 500 companies were introduced to invest in Yangling.
Uzbekistan, as a landlocked country in Central Asia, has similar production conditions of agriculture compared to the northwest of China. During the 26th Agricultural High-Tech Fair, nine students from Uzbekistan and Chinese experts jointly conducted special seminars on the economic management and development of modern agriculture, and they participated in related activities.
"I hope everyone can cherish the friendship established in this seminar, keep close contact after returning to Uzbekistan, and actively play the role of bridges to make China and Uzbekistan have more exchanges and cooperation in the field of modern agriculture." The deputy director of Management Committee of Yangling Agricultural High-Tech Industrial Demonstration Zone, Chen Yaping said.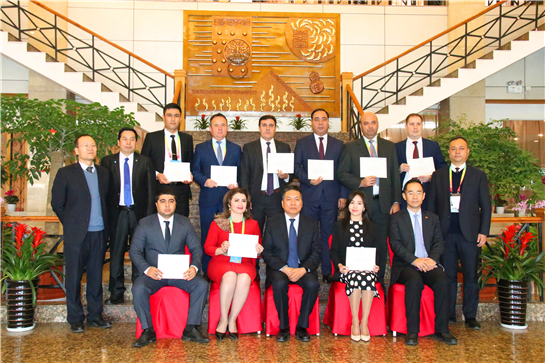 Pose for photographs
Photo by Chaoyang Wang